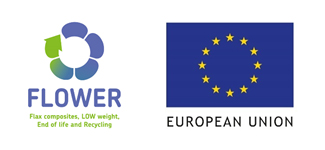 The main objective of FLOWER is to develop locally produced flax fiber reinforcements with architectures optimized for the composites industry in view of developing new products for the automotive industry, the naval sector or the field of point-of-sale advertising.
For Howa Tramico,
this is an excellent opportunity to
01.

Rely on cross-border and complementary skills
02.

Guarantee and validate the development of innovative, high-performance, lightweight, biodegradable or recyclable products
03.

Introduce with these innovative preforms new products dedicated to the automotive industry,
04.

Decrease the environmental impacts.
Overall project budget
4,7 M€
(of which 3.2 M€ co-financed by ERDF)
Project duration 56 months
from February 2018
to September 2022
Project objectives and results
The production of flax fibers is 4 times less energy consuming than that of glass fibers and their use combined with gains in mass will reduce the overall environmental impact of products.
 The developed products will be positive in terms of pollution, energy efficiency and climatic change.